G-LUBE
Cost-effective, reliable, safe, ecological
G-LUBE is an electronically controlled single-point lubrication system, driven by a chemical reaction.
The dispenser excels through user-friendliness and a good cost-performance ratio. This product is the right choice for most lubrication applications: cost-effective, reliable, safe and ecological!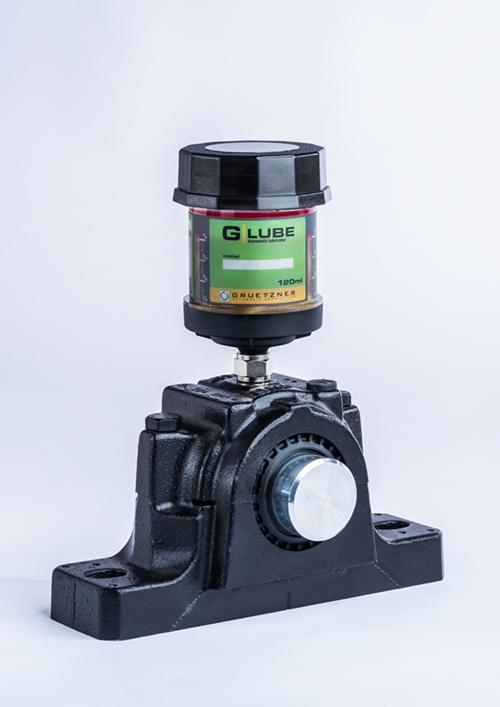 G-LUBE combines all the advantages of gas-powered lubrication systems and is a cost-effective solution for users wishing to switch from manual to automatic lubrication and for those familiar with automatic lubrication systems.
The function is based on the proven technology of an electrochemical reaction that produces non-reactive nitrogen (N2) through the systematic use of an electrolyte. This type of pressure generation makes G-LUBE more temperature-independent than many conventional gas-powered lubrication systems.
With pressure generation not exceeding 5 bar and at ambient temperatures from -20 °C to +55 °C G-LUBE guarantees up to 12 months of reliable operation. The lubrication system is available in the sizes 60, 120 and 240 ml.
Models
Your benefits
electrochemical drive
precise, reliable lubricant delivery
easy handling
activation without tools
environmentally friendly product, easy disposal
can be used outdoors
can be used in EX areas
dispensing period 1/3/6/9/12 months (modifiable at any time)
easy and fast to fill yourself
special fillings possible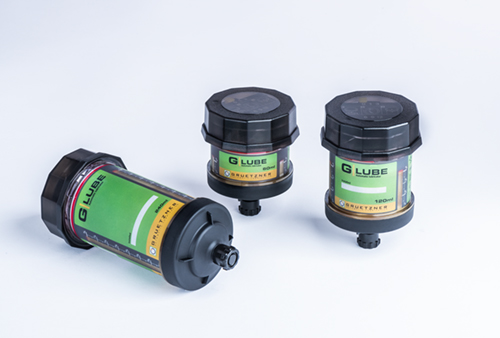 Components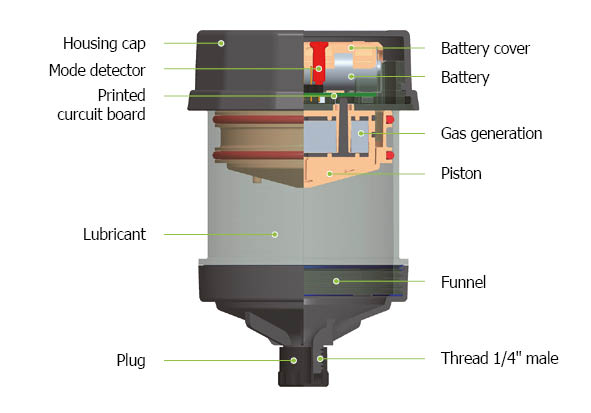 Filling – all-round service or independently
You can fill G-LUBE yourself in a few easy steps. Both oils and greases up to NLGI class 2 can be used.
Of course, you can always rely on our tried and tested standard lubricants or provide us with your own lubricant for filling.
Our all-round service is even more convenient: we take care of everything from the provision and filling of your desired lubricant to the delivery of the dispenser, ready for use.
Application pictures
More pictures