Chain lubrication pinions
As with the lubricating of gearwheels, the lubricant passes through the axle and corresponding holes into the foam material, the pinion ensures quiet running.
See mountings
The rollers from open-celled PU foam transfer the lubricant in a point-wise manner to the surfaces of the lugs of roller chains.
The chain lubricating pinions are, dependent on size, available for simplex and duplex chains. The optimal contact pressure of the lubricating pinion can be individually adjusted using a tensioning element. The tensioning element can also be used for a sprung positioning of the lubricating gearwheel.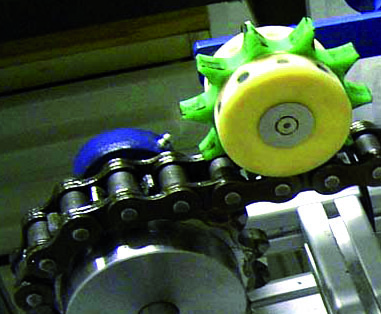 Technical data
Chain lubrication pinions

Material

Polyurethane foam, open-celled

Operating temperature

-30 °C to +60 °C
Special models suitable for larger temperature ranges are available on request.

Speed at the surface

max. 5 m/s

Density

240 kg/m³

Application

suitable for oil & grease
Simplex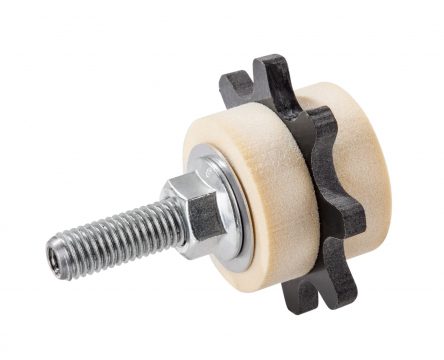 Duplex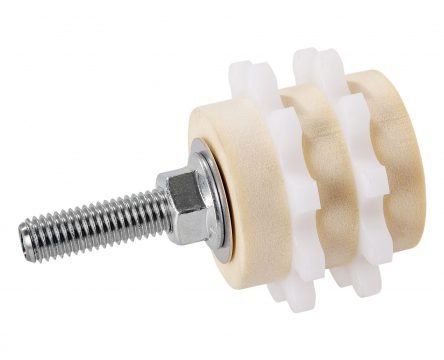 Chain lubrication pinion with straight axle
1/2″ x 5/16″
Chain lubrication pinion
Size

1/2″ x 5/16″

Fixing of axle

M10

Thread hollow axle

M6

ISO no. (Simplex)

08 B-1

ISO no. (Duplex)

08 B-2

Art. no. (Simplex)

LAT-KR-S-08

Art. no. (Duplex)

LAT-KR-D-08
Technical data sheet
5/8″ x 3/8″
Chain lubrication pinion
Size

5/8″ x 3/8″

Fixing of axle

M10

Thread hollow axle

M6

ISO no. (Simplex)

10 B-1

ISO no. (Duplex)

10 B-2

Art. no. (Simplex)

LAT-KR-S-10

Art. no. (Duplex)

LAT-KR-D-10
Technical data sheet
3D drawing
3/4″ x 7/16″
Chain lubrication pinion
Size

3/4″ x 7/16″

Fixing of axle

M10

Thread hollow axle

M6

ISO no. (Simplex)

12 B-1

ISO no. (Duplex)

12 B-2

Art. no. (Simplex)

LAT-KR-S-12

Art. no. (Duplex)

LAT-KR-D-12
Technical data sheet
3D drawing
1″ x 17 mm
Chain lubrication pinion
Size

1″ x 17 mm

Fixing of axle

M10

Thread hollow axle

M6

ISO no. (Simplex)

16 B-1

ISO no. (Duplex)

16 B-2

Art. no. (Simplex)

LAT-KR-S-16

Art. no. (Duplex)

LAT-KR-D-16
Technical data sheet
3D drawing
1 1/4″ x 3/4″
Chain lubrication pinion
Size

1 1/4″ x 3/4″

Fixing of axle

M16

Thread hollow axle

R1/8″


ISO no. (Simplex)

20 B-1

ISO no. (Duplex)

20 B-2

Art. no. (Simplex)

LAT-KR-S-20

Art. no. (Duplex)

LAT-KR-D-20
Technical data sheet
1/2″ x 1
Chain lubrication pinion
Size

1/2″ x 1

Fixing of axle

M16

Thread hollow axle

R1/8″


ISO no. (Simplex)

24 B-1

ISO no. (Duplex)

24 B-2

Art. no. (Simplex)

LAT-KR-S-24

Art. no. (Duplex)

LAT-KR-D-24
3D drawing
2 x 1 1/4″
Chain lubrication pinion
Size

2 x 1 1/4″

Fixing of axle

M16

Thread hollow axle

R1/8″


ISO no. (Simplex)

32 B-1

ISO no. (Duplex)

32 B-2

Art. no. (Simplex)

LAT-KR-S-32

Art. no. (Duplex)

LAT-KR-D-32
Chain lubrication pinion with angled axle
1/2″ x 5/16″
Chain lubrication pinion
Size

1/2″ x 5/16″

Fixing of axle

M8

Thread hollow axle

M10x1

ISO no. (Simplex)

08 B-1

ISO no. (Duplex)

08 B-2

Art. no. (Simplex)

LAT-KR-S-08G

Art. no. (Duplex)

LAT-KR-D-08G
Technical data sheet
5/8″ x 3/8″
Chain lubrication pinion
Size

5/8″ x 3/8″

Fixing of axle

M8

Thread hollow axle

M10x1

ISO no. (Simplex)

10 B-1

ISO no. (Duplex)

10 B-2

Art. no. (Simplex)

LAT-KR-S-10G

Art. no. (Duplex)

LAT-KR-D-10G
Technical data sheet
3D drawing
3/4″ x 7/16″
Chain lubrication pinion
Size

3/4″ x 7/16″

Fixing of axle

M8

Thread hollow axle

M10x1

ISO no. (Simplex)

12 B-1

ISO no. (Duplex)

12 B-2

Art. no. (Simplex)

LAT-KR-S-12G

Art. no. (Duplex)

LAT-KR-D-12G
Technical data sheet
1″ x 17 mm
Chain lubrication pinion
Size

1″ x 17 mm

Fixing of axle

M8

Thread hollow axle

M10x1

ISO no. (Simplex)

16 B-1

ISO no. (Duplex)

16 B-2

Art. no. (Simplex)

LAT-KR-S-16G

Art. no. (Duplex)

LAT-KR-D-16G
Technical data sheet
1 1/4″ x 3/4″
Chain lubrication pinion
Size

1 1/4″ x 3/4″

Fixing of axle

M8

Thread hollow axle

M10x1

ISO no. (Simplex)

20 B-1

ISO no. (Duplex)

20 B-2

Art. no. (Simplex)

LAT-KR-S-20G

Art. no. (Duplex)

LAT-KR-D-20G
Technical data sheet
1 1/2″ x 1″
Chain lubrication pinion
Size

1 1/2″ x 1″

Fixing of axle

M8

Thread hollow axle

M10x1

ISO no. (Simplex)

24 B-1

ISO no. (Duplex)

24 B-2

Art. no. (Simplex)

LAT-KR-S-24G

Art. no. (Duplex)

LAT-KR-D-24G
Technical data sheet
2″ x 1 1/4″
Chain lubrication pinion
Size

2″ x 1 1/4″

Fixing of axle

M8

Thread hollow axle

M10x1

ISO no. (Simplex)

32 B-1

ISO no. (Duplex)

32 B-2

Art. no. (Simplex)

LAT-KR-S-32G

Art. no. (Duplex)

LAT-KR-D-32G