Oil applicators
Applicators apply oil evenly and purposefully to chains and are characterised by particular durability: The application surface consists of 100% wear-resistant PU foam. The durability of the material not only allows it to be used with high-speed chains up to 5 m/s, which cannot be lubricated by brushes or pinions. Sensitive areas such as food production also benefit from the extremely low abrasion, as contamination of the environment can be ruled out.
The oil applicator is supplied completely pre-assembled, including spring plate and hose connector, and can be installed quickly and easily.
Applicators can be combined with all Gruetzner lubricators and used with oil only.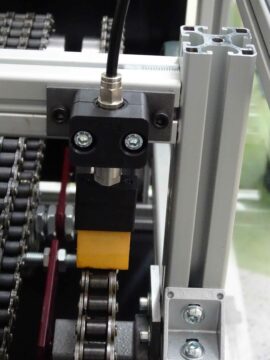 Oil applicator 30 mm

Width

30 mm

Operating temperature

-30 °C to +80 °C

Material

PU foam

Scope of delivery

with spring plate and hose connector (Ø 6 mm)

Art. no.

GAT-AP-30
Technical data sheet
Oil applicator 45 mm

Width

45 mm

Operating temperature

-30 °C to +80 °C

Material

PU foam

Scope of delivery

with spring plate and hose connector (Ø 6 mm)

Art. no.

GAT-AP-45
Oil applicator 60 mm

Width

60 mm

Operating temperature

-30 °C to +80 °C

Material

PU foam

Scope of delivery

with spring plate and hose connector (Ø 6 mm)

Art. no.

GAT-AP-60
Technical data sheet
Oil applicator 85 mm

Width

85 mm

Operating temperature

-30 °C to +80 °C

Material

PU foam

Scope of delivery

with spring plate and hose connector (Ø 6 mm)

Art. no.

GAT-AP-85
Oil applicator for lifts
Rail width

5 / 9 / 16 mm

max. rail depth

20 mm

Material

Polyamid, PU foam

Art. no.

GAT2042

Scope of delivery

Housing with 3 applicator sponges (5, 9, 16 mm)
User manual