Sololube
Precise electromechanical single-point lubrication
Sololube is a reliable, easy-to-operate lubricant dispenser with an electromechanical drive. Its precise delivery system makes Sololube equally suitable for the automatic lubrication of roller and friction bearings, gear racks, open transmissions or chains.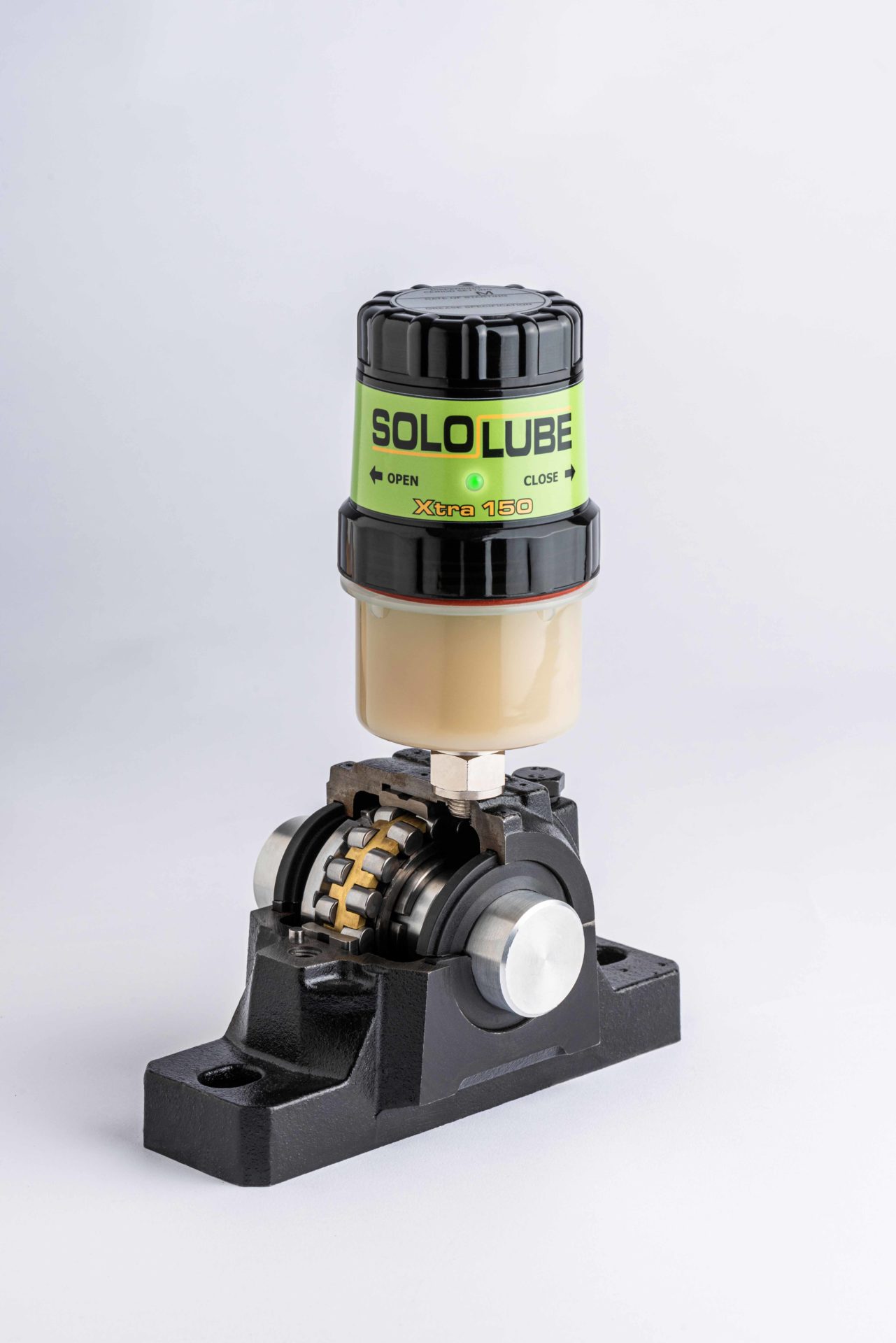 Sololube has a robust, very precise drive motor, supplied with voltage by a high-capacity 6 V Li battery or a 24 V power supply. The lubricant cartridge – optionally with 60, 150 or 250 ml content – is simply screwed to the drive unit.
With a delivery pressure of 7.5 bar (109 psi), Sololube works automatically, independent of temperature, for up to a year. The dispensing period can be freely selected between 1 and 12 months (by altering the amount of lubricant dispensed). Changing the setting or switching the device off is of course possible at any time.
The performance of Sololube is monitored with a clearly visible LED. The filling level of the lubricant cartridge is, moreover, clearly visible at all times through the transparent housing.
Models
Your benefits
Precise, reliable delivery of lubricant
Delivery pressure 7.5 bar (109 psi)
Dispensing period 1–12 months
Visual warning of malfunction (LED)
Operating temperature -20 °C to +60 °C
Can be used outdoors
Independent of temperature
Visual check possible at all times
Hose up to 1.5 m (grease) or 5 m (oil) long
Special fillings available
Solid and precise
Sololube provides a robust but very percise electromechanical drive, a high-capacity 6 V Li battery as well as an exchangeable lubricant cartridge. The drive unit is reusable multiple times.
Sololube is suitable for single point lubrication of roller and friction bearings, gear racks, open transmissions or chains. To cover a wide range of application areas it is available in 3 sizes (60, 150 and 250 ml) and 6 models. All cartridges can be filled with grease up to NLGI cl. 2 or oil.
Versatile & flexible
The operating period of the dispenser (1-12 months) is easily set with DIP switches and can be stopped or changed subsequently if required. In case of longer machinarey downtimes the lubricator can be switched off completely as well. The transparent housing enables a visual check at all times. Moreover, function control is possible through the LEDs (red/green). An operational temperature of -20 to +60 °C and a practical protective hood allow an outdoor use.
Application pictures
More pictures