Lubricus B
Simple solution for many applications
The basic variant of the Lubricus lubrication system is battery-driven Lubricus B. This model is available with either one or two outlets and can reliably provide lubrication points with lubricant for up to 36 months.
For using an external power supply (24 VDC) Lubricus V was designed.

LUBRICUS B-1 &
LUBRICUS B-2
The battery-operated variant of the Lubricus lubrication system is always used when an autarchic operation is desired or necessary. The highly-efficient battery pack can optionally be set to empty the lubricant cartridge over a period of 1-36 months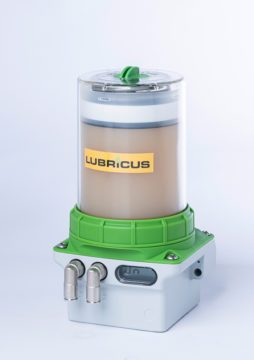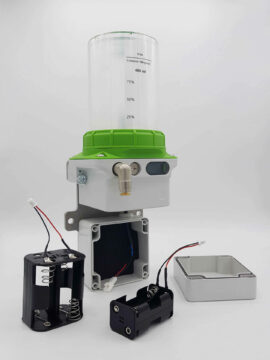 LUBRICUS B-EB with external battery compartment
This version of Lubricus can now be used cleanly and easily with oil thanks to the external battery compartment.
Lubricus B-EB can be operated as usual with the powerful Gruetzner battery pack or alternatively with your own lithium batteries (4 x AA or 4 x C).
Technical data
Lubricus B

Drive

electromechanical (reusable)

Number of outlets

1-2

Operating pressure

max. 70 bar (1015 psi)

Distribution period

1 – 36 months / pause time

Lubricant volume

250 ml, 400 ml

Lubricating medium

oils and greases up to NLGI 2

Operating temperature

-15 °C to +70 °C

Working voltage

6.0 V (Li battery)

Weight empty

from ~1137 g

Dimensions (WxHxD)

250 ml: 112 x 165 x 94 mm
400 ml: 112 x 196 x 94 mm

Performance monitoring

display, green/red LED

Control

time mode

Operation

directly at the device

Distributor possible

yes

Art. no.

LUB-B
Technical data sheet 250 ml
3D drawings 250 ml
Technical data sheet 400 ml
3D drawings 400 ml
Lubricus B EB

Drive

electromechanical (reusable)

Number of outlets

1-2

Operating pressure

max. 70 bar (1015 psi)

Distribution period

1 – 36 months / pause time

Lubricant volume

250 ml, 400 ml

Lubricating medium

oils and greases up to NLGI 2

Operating temperature

-15 °C to +70 °C

Working voltage

6.0 V (Li battery)
4 x AA (Li battery),
4 x C (Li battery)

Weight empty

from ~1736 g

Dimensions (WxHxD)

250 ml: 115 x 268 x 116 mm
400 ml: 115 x 299 x 116 mm

Performance monitoring

display, LED

Control

time mode

Operation

directly at the device

Distributor possible

yes

Art. no.

LUB-B-1-EB; LUB-B-2-EB;
LUB-B-1-EB-OIL; LUB-B-2-EB-OIL
Technical data sheet 400 ml
Application pictures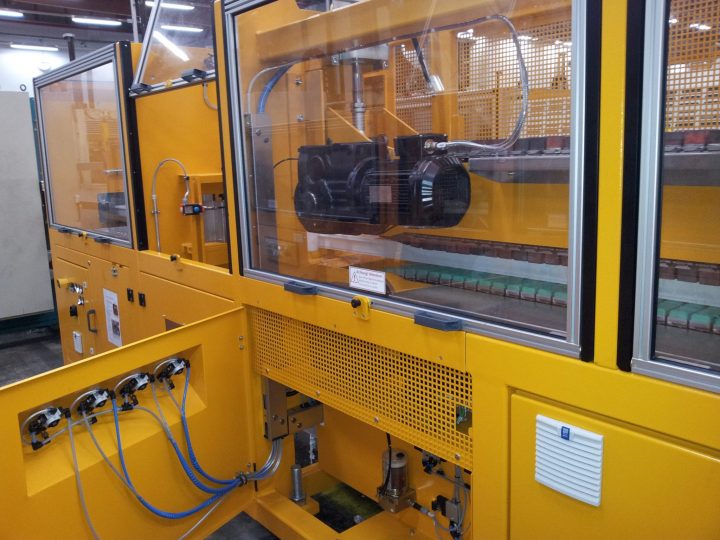 more pictures