G-LUBE OIL
Electromechanical lubricator for oil
The battery-powered G‑LUBE OIL is a refillable oil dispenser, ideal for lubricating chains, spindles and linear guides. The assembly and commissioning of the G‑LUBE OIL is very simple. The emptying options from 2 weeks to 24 months and the temperature-independent drive ensure a precise supply of oil to the lubrication point. When using a progressive distributor, up to 10 lubrication points can be supplied. Important status messages are visible at all times during operation.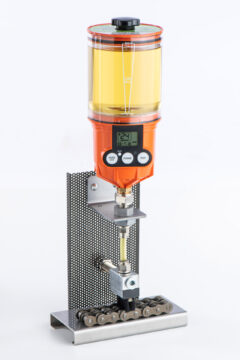 The autonomous battery operation, the large oil reservoir and the powerful pump technology mean that G‑LUBE OIL offers many advantages. The 4.5 V battery allows flexible use in places where a 24 V power supply is not available or feasible. With the help of tubing, it is also possible to bridge even greater distances. At the same time, up to 10 lubrication points can be supplied by means of progressive distributors or splitters.
The display with its integrated LEDs offers very detailed status reports. Particularly practical:
a countdown of the remaining duration can be read on the display at all times during operation.
Due to its flexibility, G‑LUBE OIL can be used in a variety of ways in all branches of industry, both indoors and outdoors, to ensure the regular and demand-oriented supply of oil to lubrication points. The intuitive operation on the display enables easy and straightforward commissioning on site.
Cost saving due to refillability
The extra-large oil reservoir holds 500 ml and can be refilled directly on site every time it is completely emptied, without any complications and without special equipment. Since only the battery needs to be replaced after the dispensing time has expired, the use of G‑LUBE OIL not only saves working hours, but also reduces the operational follow-up costs to a minimum.
The reduced disposal costs due to the simple refilling process not only reduce maintenance expenses, but also protect the environment.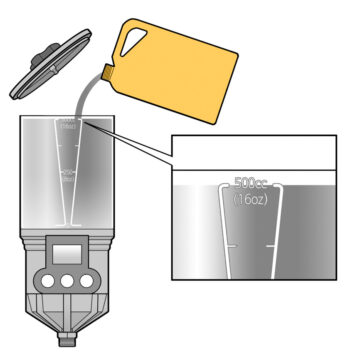 Benefit from the G‑LUBE OIL advantages
Refillable on-site
Temperature-independent – linear discharge during the complete period
Extra-large oil container of 500 ml
Self-sufficient operation with battery operation
Countdown of remaining duration on the display
Numerous detailed status messages via display and LED
Application pictures