Lubricajo EM
Reliable single-point lubrication with easy handling
Lubricajo EM is an electromechanical lubricator for lubricating individual lubrication points with oil or grease. Depending on the version, operation is either self-sufficient via battery or by means of a 24 V connection. Lubricajo EM is designed for a variety of applications for single-point lubrication.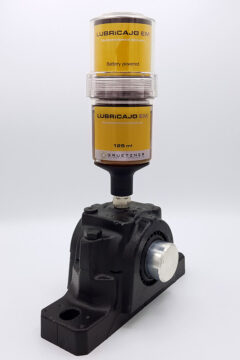 Battery-powered lubricators can be used autonomously and replace time-consuming manual lubrication. Thanks to the electromechanical drive, Lubricajo EM lubricates reliably even in varying ambient temperatures. Lubricajo EM-B operates with a 4.5 V alkaline battery. For low temperatures and/or high back pressure, we recommend the more powerful lithium battery instead.
If discontinuous lubrication is planned, the cable-based Lubricajo EM‑V can be used. This dispenses the correct amount of lubricant over a set period of time when the machine is running. Using the memory function, the system stores the number of dispensings made so far, alarms and the time elapsed since the last dispensing. This also allows lubrication when the machine is not in continuous operation.
In addition, Lubricajo EM-V communicates with the PLC and simplifies handling with status messages on function and fill level.
The lubricant is in a reservoir with a volume of 125 or 250 ml.
Advantages of Lubricajo EM
2 variants available in 2 sizes each
Temperature-independent thanks to electromechanical drive
5 bar (73 psi) operating pressure
Up to 12 months running time per filling
For oils and greases up to NLGI class 2
Slim housing for installations with little space
Memory function
Handling without additional tools
Operating temperature -20 °C to +50 °C
(depending on model and with suitable lubricants)
Special fillings possible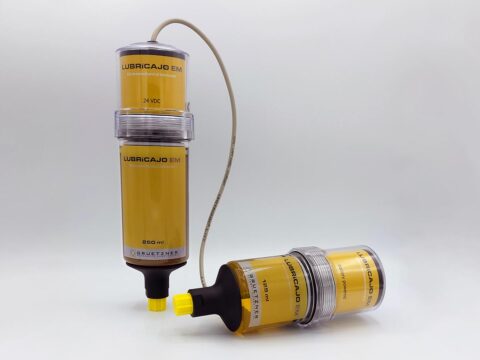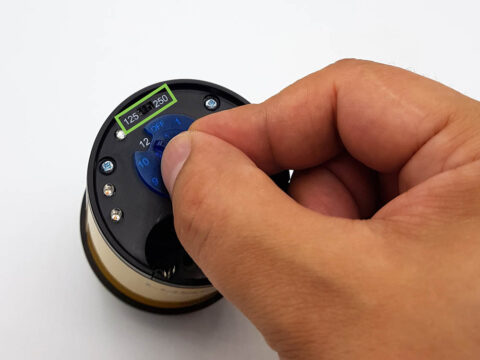 Thanks to the toggle switch, the drive unit can be used for both cartridge sizes!
The dispensing time of the Lubricajo EM can be easily adjusted without tools via a rotary control. During operation, three coloured LEDs provide detailed information about the current status of the lubricator.
Particularly practical is the available support adapter, which is available in two versions for use with grease or oil. This stabilises Lubricajo EM and enables direct installation even on heavily vibrating machines. In the support adapter for oil, the built-in non-return valve ensures leakage safety.
Models
Lubricajo EM-B

Drive

electromechanical (reusable)

Operating pressure

max. 5 bar (73 psi)

Distribution period

1/2/3/4/6/8/9/10/12 months

Lubricant volume

125 ml or 250 ml

Lubricating medium

oils and greases up to NLGI 2

Operating temperature

0 °C to +50 °C (Al battery)
-10 °C to +50 °C (Li battery)

Performance monitoring

LED (green/yellow/red)

Working voltage

4,5 V (battery)

Art. no.

LJ-EM-B
Lubricajo EM-V

Drive

electromechanical (reusable)

Operating pressure

max. 5 bar (73 psi)

Distribution period

1/2/3/4/6/8/9/10/12 months

Lubricant volume

125 ml or 250 ml

Lubricating medium

oils and greases up to NLGI 2

Operating temperature

-20 °C to +50 °C

Performance monitoring

LED (green/yellow/red)

Working voltage

7 – 35 V

Art. no.

LJ-EM-V
3D drawing 125 ml
Technical data sheet 125 ml
3D drawing 250 ml
Technical data sheet 250 ml